I'm a closet vegetarian. There, it's out in the open now. Not because I am an eco-warrior or anything. God knows I don't have any values. It's just that whenever I eat meat I automatically think of baby animals. Cue tears.
I spotted this recipe over here and fell in love with the pictures. Then I started reading and every cell in my body was yelling at me to go make this dish. I tried it, I love it! Any more words would disgrace this wonderful dish.

Oven Fried Green Tomato Caprese Stacks
YIELD: SERVES 4 PREP TIME: 20 MINUTES COOK TIME: 30 MINUTES TOTAL TIME: 50 MINUTES
Ingredients:
4 green tomatoes, sliced into 1/2-inch thick rounds
2 large eggs, lightly beaten
1 cup panko bread crumbs
1/2 cup regular breadcrumbs
1/4 cup medium grind cornmeal
1/4 cup flour
1 teaspoon salt
1/2 teaspoon pepper
1/8 teaspoon cayenne pepper
12 ounces fresh mozzarella, sliced into rounds (ideally the same size as the tomatoes)
12 large fresh basil leaves
balsamic glaze for drizzling
Directions:
Preheat oven to 425 degrees F. Line a baking sheet with aluminum foil and place a wire rack on top, spraying it with non-stick spray.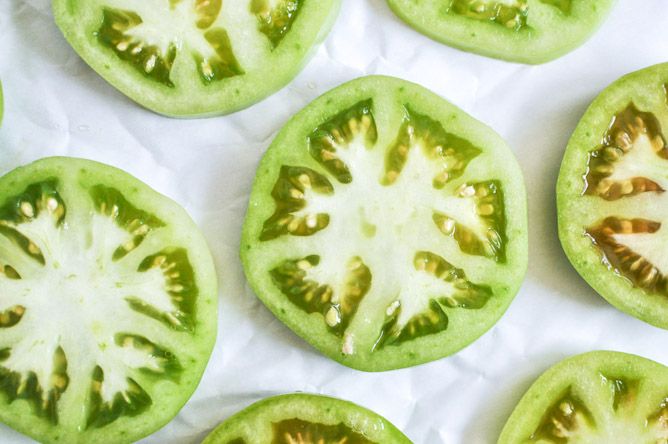 In a large bowl, combine panko, bread crumbs, cornmeal, flour, salt, pepper and cayenne, mixing thoroughly to combine. In a small bowl, lightly beat the eggs. Take each slice of green tomato and coat it in the beaten egg, then dredge it through the bread crumb mix, pressing on both sides to adhere.
Gently place the tomato on the wire rack and repeat with the remaining slices. Once finished, spray each tomato with olive oil (or non-stick spray, whatever you have). Bake for 25-30 minutes, until tomatoes are crispy and golden.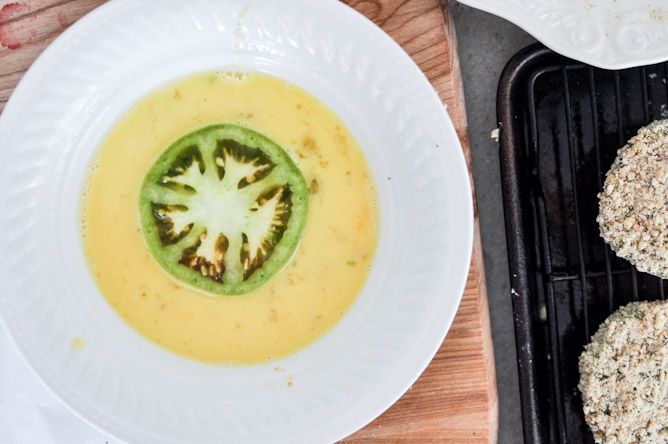 Once finished, remove gently from the wire rack. Assemble stacks of alternating tomatoes, mozzarella rounds and basil leaves, finishing it all off with a drizzle of balsamic glaze. Serve immediately.